News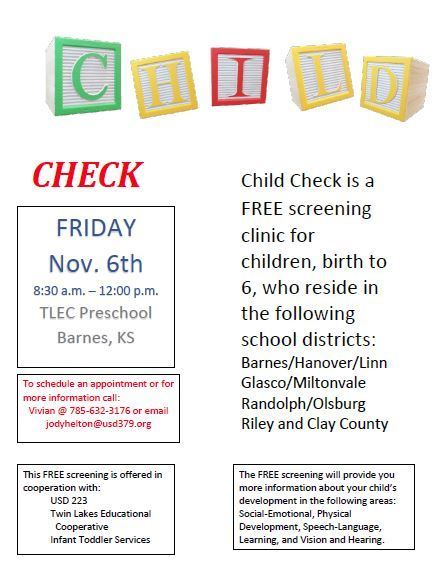 TLEC PreschoolChild Check November 6, 2020November 6th from 8:30am to 12:00Barnes, KSFree Screening call or email to schedule your appointment
I hope this post finds everyone well. I typically post this message sooner in the year. However, this year I wanted to ensure we would get off the ground and stay there, before posting. Now that...
Recently, USDA approved a waiver allowing breakfast and lunch to be free for all students through December 31, 2020 or until USDA funding is exhausted. Beginning today, USD 223 Barnes-Hanover-Linn...
SEE ALL NEWS
LIVE FEED

Austin Lawrence
about 5 hours ago
Stream for substate

Austin Lawrence
5 days ago
https://www.youtube.com/watch?v=RaX_UcXKoBA
Stream for BVL ...

Austin Lawrence
about 1 month ago
https://www.youtube.com/channel/UC9eOV_BND4mum_mZDMy1wGg
Hanover volleyball tonight will be live on the link above subscribe and hi ...
SEE ALL posts