Congrats to the following athletes for receiving Sports in Kansas (SIK) accolades. Emmitt Jueneman - 1st Team 1A DII and 3rd Team All Class Jacob Jueneman - 1st Team 1A DII Blake Hynek - 2nd Team 1A DII Congrats!

Here is information regarding Drivers Education, if your child is 14 before June 1st and have graduated from 8th grade they are eligible to enroll:
https://5il.co/qwc6
Drivers Education Application :
https://5il.co/qwc7

Congrats to our TVL all league honor recipients.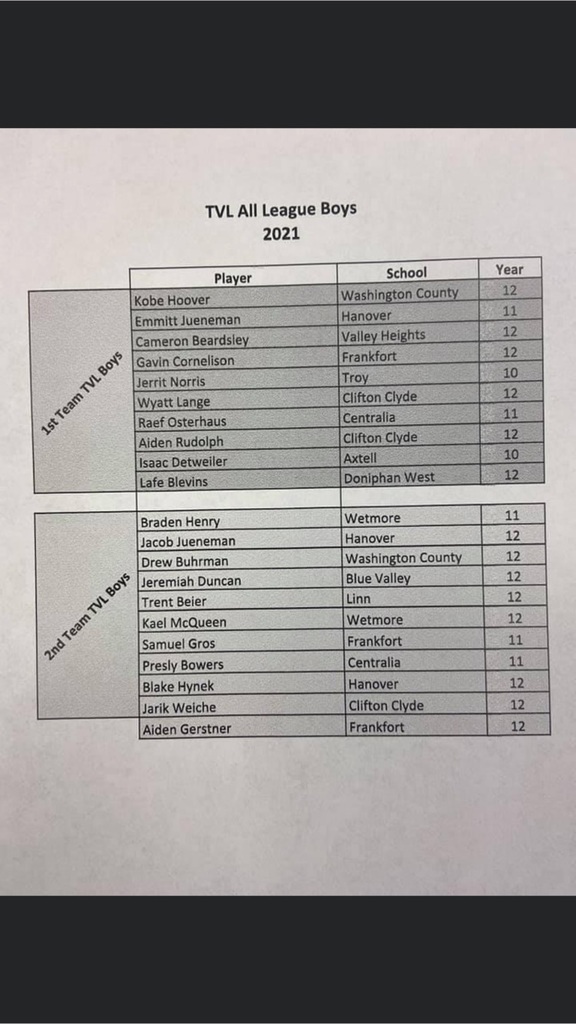 Congrats to our basketball team as they advance to the Final Four of the state tournament in Great Bend. Hanover will play at 3:00 against Northern Valley at Barton County Community College. 5 and under get in free. Same format as before, using GoFan, no screenshots or printed tickets will work. They are also shutting off purchases 2 hours before the game. So get your tickets early. Here is the link:
https://gofan.co/app/events/258669
See you in Great Bend, Go 'Cats!!

Friday at 3:00 vs Northern Valley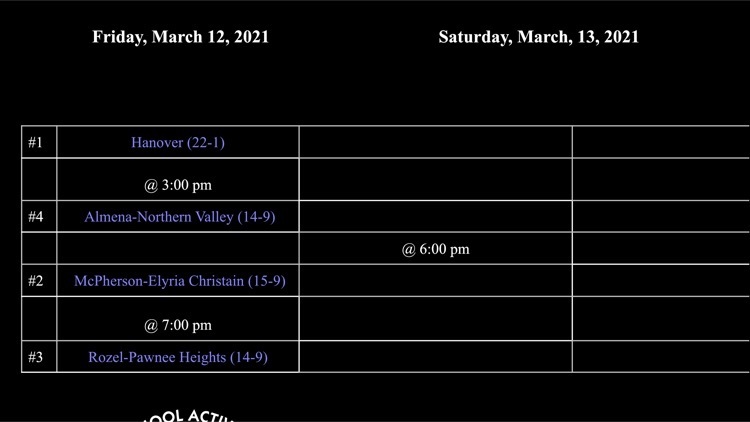 With the Hanover win over Beloit St John's, 71-37, we will be the 1 seed and play at 3:00 on Friday. Opponent will be determined.


Here is the link for tickets for tomorrow's State Quarterfinal game to be played in MARYSVILLE at 6:00. 5 and under will not need tickets. Gates will open at 5:15.
https://gofan.co/app/events/265463

Tomorrow's State Quarterfinal game will be played in Marysville at 6:00. I will be posting a link to purchase tickets on GoFan. Each school will receive 400 tickets. This will be a first come first serve basis. thanks for your patience

Information regarding tickets for tomorrow's Quarterfinal game will be released shortly. We will get the information out as soon as we can. thanks!

https://gofan.co/app/school/KS69514
Tickets are now available for purchase for the Boys and Girls Sub State Championship games. If you are wanting to attend both, you will need to buy two sets of tickets. Go 'Cats!

Couple reminders for tomorrow. If you are wanting to attend both the girls and boys sub state championship games, you'll have to buy two sets of tickets (one for each game). After the girls game, they will clear the gym and sanitize. We will be the home team for both games. Family link for tickets is going out tonight, and the public link will be posted tomorrow morning. Go 'CATS!!


Good luck to HS Boy basketball team as they take on Axtell in the sub state semi finals tonight at 8:00. If you want to purchase tickets, here is the link:
https://gofan.co/app/school/KS69514
Make sure to purchase from the home team link. Go 'Cats!

Good luck to our girls basketball team as they play against Blue Valley in the sub state semi finals at Axtell. Fans are not allowed in the gym until 7:30 tonight. Face masks will be required at all times. Here is the link to purchase tickets for tonight's game:
https://gofan.co/app/school/KS69514
We will be the home team. 5 and under do not need tickets. Go 'Cats!

Tickets for the Boy's Semi-Final Games on Fri. March 5 at 8:00PM, are now available for Public Purchase on the Axtell GoFan Page.
https://gofan.co/app/school/KS69514
Make sure when you purchase the tickets you do so under the HOME link, since Hanover will be the home team.

Tickets for the Hanover vs Blue Valley Girls Semi-Final Game on Thu. March 4 at 8:00PM, are now available for Public Purchase on the Axtell GoFan Page.
https://gofan.co/app/school/KS69514
Hanover Fans should purchase through the Home Link and Blue Valley through the Away Link. *The Wetmore vs Linn Semi-Final Ticket access will be on there as well so be sure that you are purchasing from the right place. If Wifi access is needed to facilitate the opening of the GoFan tickets once at the Gate in Axtell, fans may access the BlueValley Wifi. There is no Password necessary to connect to this internet service. Remember that there will be no Print Outs or Screenshots accepted for Entrance...Only the actual tickets pulled up on your device that may be validated at the Gate. Thank you Plenty of tickets are still available!

Boys and girls sub state basketball games will be aired on KNDY 95.5. Go 'CATS!

GIRLS SUB STATE - TICKET INFORMATION This is the information regarding the purchasing of Sub-State Tickets for the Girl's Semi-Final Game this Thursday at Axtell. This information and the link to purchase the tickets is being sent to the parents/ relatives of the players exclusively, at first, so that they are guaranteed to have first shot at the tickets that are available. That will be exclusive and private Tuesday Afternoon, at which time the remainder of the seats will be released to the Public for purchase. In order to guarantee that the parents and relatives get their tickets they need to purchase them before then. 1. Each person, Mom, Dad, Brother and Sister, may purchase 4 tickets maximum. Please talk to any relatives of yours who want to attend but who may be limited technologically and help them to buy, or buy them for them, if they do not have a cell-phone that they will be able to present at the Gate for Admission. PLEASE READ AND UNDERSTAND!!! NO ONE WILL BE ADMITTED with a printout of the ticket purchased screen OR by presenting a cell phone or device with only a screenshot of the tickets purchased. Neither of these options allows for the ticket to be validated and would, therefore, allow 2 people to enter for each ticket purchased if they were to be accepted. There will be a validate button beside each ticket purchased that will actually be done at the gate by pushing that button, so they must have access to that screen. *The fact that each person with access to this link may purchase 4 tickets should allow for the assistance of those who may have problems doing so. 2. Non-relatives, or the General Public, will have the opportunity to purchase tickets when they become available on the Public Market. In order to ensure that the Parent's and Relatives have first access to purchase tickets, Please do not share this link with anyone that is not a relative. 3. There are going to be 300 tickets available for each school and I believe that this should be enough to accommodate both relatives and the public. The girls basketball team will be given the ticket information tonight (3/1) at practice. They will provide a link to their family and relatives. Each person can purchase 4 tickets. To repeat, a screenshot or printout of the ticket screen will NOT gain you admittance to the game. After tickets are purchased, there will be a "VALIDATE" button beside the ticket. The gate will need to be able to push that validate button for the ticket to be used for admittance. So you will need to be able to access that gofan screen with validate button at the gate. Click the youtube link below for assistance with purchasing tickets.
https://www.youtube.com/watch?v=tkZqTY5d6Bg